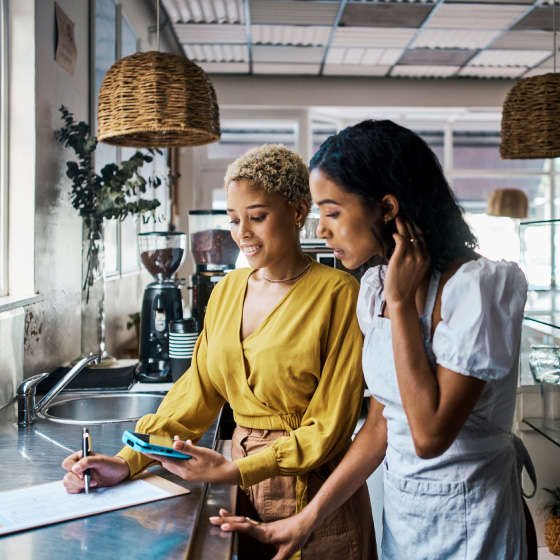 Make the purchasing process work for you.
Our Business Debit Cards allow your business to make fast, interest-free purchases online and over the phone.
Each transaction generates a detailed record, allowing you to easily track - and control - spending.
Add your business debit card to your Digital Wallet for easy payments at most merchants

Access accounts at 55,000 ATMs worldwide that are part of the Allpoint Network
Visa's Zero Liability protection means that your business is protected in the event of a lost or stolen card
Shore United Bank's instant issue means you get your debit card the moment your business opens a checking account- there's no waiting for it to come in the mail
With the MyCardRules app, you can turn your cards on or off, be get notifications when it's used and set spending thresholds
Link your business debit card to mobile devices to make contactless purchases at retailers, restaurants and other merchants. High-tech security ensures the privacy of your business's financial data.
Go to your digital wallet app or download your digital wallet of choice - Apple Pay, Google Pay, or Samsung Pay.
Add your Shore United Bank debit card.
Follow the prompts within the wallet to complete your setup.
If you have general questions about Digital Wallets, contact Apple Pay, Google Pay, or Samsung Pay for support. If you need help setting up your Shore United debit card in your Digital Wallet, contact our Electronic Banking Department at 888-822-8188.
With MyCardRules, a user-friendly mobile app allows you to controls how, when, and where your Shore United Bank Business Debit Card is used.
Turn your card on or off
Be notified when your card is used to make a purchase
Set limits on where the card can be used or how much can be spent
Get extra protection against fraud
Control your card from multiple devices
To keep your accounts secure, our Fraud Center provides 24/7 monitoring of your business debit card.
When suspicious activity is identified, you will receive an immediate text notification.
If we don't receive a response to our text within a certain time frame, you will receive an email (if we have your email address on file).
If we don't receive a response from the text or email, you will receive an automated phone call inquiring about possible fraud.
Please note: Our messages will never ask for your PIN or account number. Responding to automated messages is the fastest way to handle the situation, but you may also speak with a Fraud Center or branch representative.
What do I do if my business debit card is stolen?
Please call 888-297-3416 to immediately deactivate your card.
Are there certain places my debit card won't work?
Your debit card will work at any retailer where Visa is accepted as a form of payment, barring the few countries, locations, or merchants where we've restricted use for fraud prevention purposes.

What is Visa's Zero Liability Protection?
It ensures that you won't be held responsible for unauthorized charges made on your account. Please note that this does not apply to ATM transactions, PIN transactions not processed by Visa, or certain commercial card transactions. It's subject to timeliness of notification by cardholder of unauthorized use, so report suspicious charges to Shore United Bank as soon as possible by calling 888-297-3416.