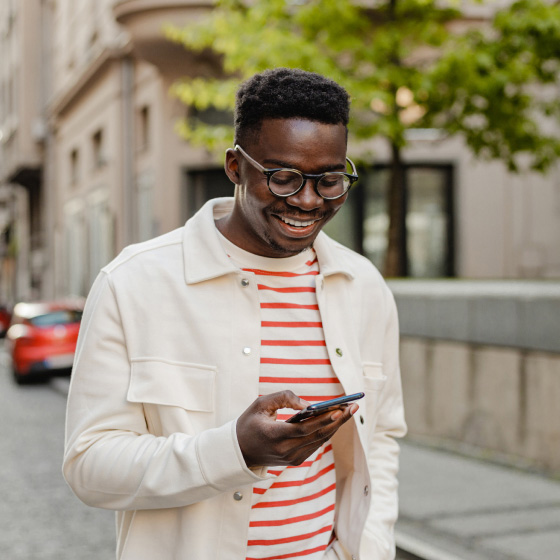 Manage money early in the morning, late at night - or anytime at all.
Pay the monthly bills. Send cash to a friend. Review recent transactions.
Tap into your Shore United Bank accounts whenever it's convenient, do what needs to be done, and finish up fast.
24/7 access to all your accounts - including checking, savings and CDs

Customize your landing page to clearly display the information that's most important for you

Check balances and transfer funds between accounts

Review past transactions

Send money to family or friends via Zelle®

Track your spending habits and credit score

Make quick bill and loan payments

Access cancelled checks and order new ones

Receive alerts notifying you of low balances and other important account information
Add Outside Accounts
You can view accounts from other financial institutions on your Shore United Online Banking page:
Log in to Online Banking

Select "Outside Balance" on the bottom of the "Overview" tab

Agree to the Outside Account terms and conditions

Enter the bank, credit card, or loan provider for the account that you want to add in the search box

Provide the username and password for the online account and select "Connect"

Repeat steps 4 and 5 for each account you want to sync to Online Banking
If you have accounts at other financial institutions, you can transfer money between them and your Shore United Account. To set up external account transfers:
You must be the owner of the Shore United Bank and outside financial institution account

Complete the online banking enrollment process

Request approval to add an external account through your online banking Services and Settings - Add External Transfer Account
We partnered with Zelle® so you can easily send money to friends, family and others you trust1.
It's a fast, safe and easy way to send and receive money, split the cost of a bill2 or pay back your roommate for your share of the rent.

All you need is the email address or the mobile phone number of the person you're sending money to


1U.S. checking or savings account required to use Zelle®. Transactions between enrolled consumers typically occur in minutes.
2In order to send payment requests or split payment requests to a U.S. mobile number, the mobile number must already be enrolled in Zelle®.
Alerts and Account Security
Security is a major concern in the digital age. That's why our online banking service has firewalls and SSL encryptions to meet the high standards set in the financial industry.
As part of this service, you'll be able to set up alerts for your accounts based on balances, transfers, and other account activities. This will help you stay in the know about changes in your account in real time.

You'll be able to set your own user ID and password; we recommend never sharing your online credentials and use a password that is hard to guess by combining letters, numbers, and symbols.

For those interested in another tier of protection, we offer two-factor authentication.
With this free service, you can monitor your credit score, view credit report activity and review financial education articles on how to improve or maintain your score.
Receive daily credit monitoring with alerts for major changes

Identify credit bureau errors

Scan your credit report for potential fraud

Understand the factors that impact your score

File a credit bureau dispute

Access a credit score simulator to help you work toward your financial goals
Our MySpending tool is another free, convenient way to monitor your finances online.
Set up budgets, track spending, and set goals

See how much you usually spend on groceries, restaurants, entertainment, and other categories

Tally how many times you ate out at a restaurant, attended entertainment events, or went shopping

See if you're about to overspend your budgeted limits in various categories.

Make fast, secure bill and loan payments without spending time writing checks and money buying postage stamps.
Free service for the first access ID on the account

View all your bills in one convenient place

Make one-time payments with just a few keystrokes

Schedule recurring payments - such as utilities and rent - well in advance so you don't have to bother with them every month

View records of past bill payments

Make expedited same-day or overnight payments for $14.95, in case a due date comes up unexpectedly or you forget to pay a bill.