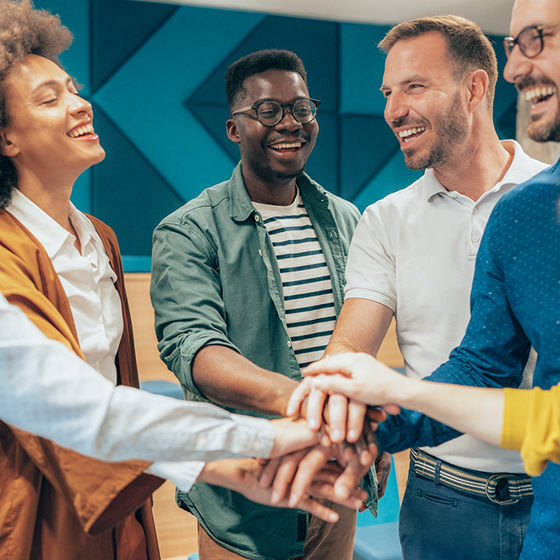 A friendly work environment filled with growth opportunities.
At Shore United Bank, opportunity is knocking. If you join our team, you'll have the opportunity to collaborate with inspiring colleagues - and build new skills that propel your career forward.

Paid Time Off

Full Health Benefits

401k Match

Employee Perks

Culture
Career Development

Life Insurance

Loan Discounts
Our employees are actively engaged and continuously looking for opportunities to support our communities and improve people's lives.
Our company's culture is family oriented. We offer a team environment and a collaborative and friendly workplace. We also offer competitive wages, opportunities for growth, and great benefits.
We are committed to providing a welcoming environment of diversity and inclusion without retribution or judgment. We serve as a resource and promote celebrating our differences.
We embrace a diverse and inclusive workforce with varying gender, age, religion, race, ethnicity, cultural background, sexual orientation, gender identity, education, and abilities that work in unity to provide an environment with passion, respect, and equality. We recognize the importance of diversity in the workforce and in the organizations, programs, and events that we support in the communities we serve. Many of the organizations we support are a direct result of employee involvement through the volunteering of their time and talents by participating on committees, boards, and/or events. We believe in a work environment that is built upon the premise of unity with diversity that encourages and enforces respect, cooperation, teamwork, and inclusion.
The Culture Committee was established to help create a more diverse and inclusive workforce to match our growing diverse communities and client base, and to foster a workplace where employees feel valued and respected because of their uniqueness.
As you consider becoming a part of our team, we're excited to introduce you to the exceptional perks and benefits that come with it:
Time to Recharge:
Paid Time Off

Paid Parental Leave

Health and Well-being:
Full Health Benefits

Short & Long Term Disability

Long Term Care Insurance

Company Paid Life Insurance

Caring for the Community:
Paid Sick Time

Paid Bereavement and Jury Duty

Embracing a Supportive Culture:
Culture Committee

Volunteer Opportunities

Supporting Local Organizations

Investing in Your Growth:
Training and Career Development

Paid Training

Management Training

Employee Perks:
Employee Stock Purchase Plan

Loan Discount Program

Employee Banking Services.

Tuition & Education Reimbursement

Employee Recognition Program

Securing Your Future:
401(k) Retirement Plan up to a 4% company match
At Shore United Bank, we're not just offering you a career – we're inviting you to join a supportive, enriching, and purpose-driven community. Explore our open positions and take the first step towards a rewarding career.
Management Trainee Program
At Shore United Bank, we offer a unique opportunity to one person each year that prepares them to be in a branch management or lending position in under two years. Our Management Trainee Program allows the chosen candidate to experience all realms of banking – customer-facing, lending, management, credit, operations, and marketing. The program ends with an emphasis on the career path that the trainee wants to take. If that's branch management, for example, they would spend the end of the program in a branch, learning all about branch functions and operations. At the completion of the Management Trainee Program, the candidate has an all-around working knowledge of our bank and what each department does to achieve our mission.
"Shore United Bank is the best place to work because the company knows that our hardworking, dedicated, and enthusiastic employees make this company so great! The company offers numerous opportunities for advancement, like myself starting as a part-time teller and working my way up to an AVP, Branch Manager." 

– Chad, Branch Manager, Shore United Bank
"I think the company culture is such that employees are truly valued for their knowledge and praised for their efforts." – Lora, Financial Advisor, Wye Financial Partners

"Shore United Bank fosters an advancement mentality and will help you not only reach your career goals, but personal goals as well." – Annie, Relationship Manager, Shore United Bank


Application Contact
If you have any questions about our career opportunities or the application process, please contact our Human Resources department:
Address: Human Resources, Shore Bancshares, Inc., 28969 Information Lane, Easton, MD 21601

Phone: 410-763-7800 Option #3

FAX: 410-763-8047

Email: careers@shbi.com

Shore United Bank. is an Equal Opportunity Employer of women, minorities, protected veterans, and individuals with disabilities.