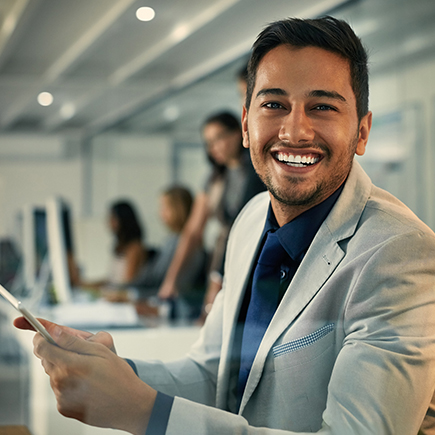 Our financial tech can save time and money!
Your business seeks to streamline operations while maintaining high standards. Shore United Bank offers an attractive solution.
Business Online Banking provides real-time account access, the ability to see cash positions at a glance, and the tools to make postage-free payments and timely funds transfers.
Get up-to-the-minute account balances

View recent transactions and pending purchases for business accounts

See rolling two years of history starting when you sign up for each account - checking, savings, CDs, and more

Transfer funds between Shore United accounts - or between Shore United and outside accounts

Make timely bill and loan payments

Access monthly account statements electronically

Have more freedom to conquer other tasks knowing you can keep track of all accounts in one place and on your schedule

Receive notifications of low balances or other important account activity

Breathe easier knowing that state-of-the-art security procedures protect your business information
Dropdown

Online Payments

Made Easy

Small Business

Bill Payment
With our Business Online Banking, you'll be able to pay bills electronically. Reduce your check-processing and postage costs as you free your staff for other critical tasks.
Make one-time bill payments with just a few keystrokes

Schedule recurring loan or bill payments far into the future, eliminating the need to deal with them each month

Make payments on the date you choose, freeing up funds that would otherwise be tied up in the postal mail (Make same-day or overnight payments for just $14.95.)

Easily add or eliminate payees
Given their resources, small businesses become skilled at streamlining essential operations. At Shore United, we offer tools that help you pay bills quickly and efficiently while safely delegating responsibilities to some of your team members.
Sign up for e-bills and then view them all in one place

Authorize different levels of access for different employees

Make one-time payments or schedule recurring payments

Set up and view bill reminders

View pending and unapproved payments

View 18 months of bill history

Select a preferred account to pay bills from

Have the ability to make a single payment for multiple invoices (up to 10) at one time

Have the ability to set up categories and grouping of payees (mortgage, utilities, phone, etc.)

Download payment history (CSV, QIF-Quicken) (QuickBooks is not compatible)
Send a secure message
We understand that security is a major concern in the digital age. That's why our business Online Banking service has firewalls and SSL encryptions to meet the high standards set by the financial industry.
Our service includes the ability to set up account alerts based on balances, transfers, and other account activities. This will help you stay in the know about your finances in real time.

You'll be able to set your own user ID and password. We recommend using a hard-to-guess password by combining letters, numbers, and symbols and never sharing your online credentials. 

For those interested in another tier of protection, Shore United offers two-factor authentication.
If you have any additional questions about Business Online Banking or a related service, please contact us at 888-820-6840 or
send us a secure message.