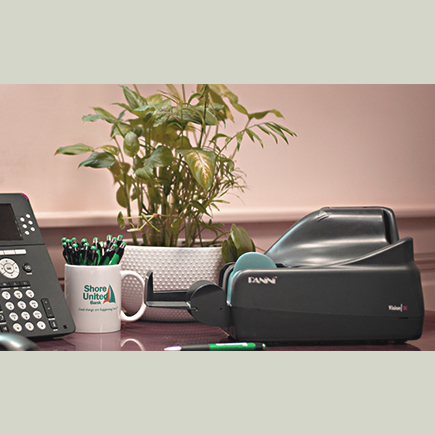 Fast-track your deposits with an office-based scanning system.
There's a better way to deposit checks than sending an employee or courier on a daily bank run. Remote
Deposit Capture is a service that electronically submits your business' bank deposits using a desktop scanner at your place of business.
It eliminates the need for regular trips to the bank by allowing you to simply scan the checks that you would normally take to the bank for deposit. The scanned checks are then securely sent to us for processing.

Checks can be scanned and images sent any hour of the day
Deposits made before 6 p.m. EST are credited the same day with next day availability
Have full access to a reporting system that will allow you to view all checks that have been deposited
Electronic check images are archived for future access, eliminating photocopying
Deposit tickets and end-of-day trips to the bank are eliminated
Deposits can be made into multiple accounts

Getting Started
Let us know how you plan to use the scanner:
How many checks will you be depositing?
How often do you make deposits (daily, weekly, etc.)?
What is the estimated total dollar amount depositing each week/month?
Will you be using a laptop or desktop computer? Apple or PC (Windows 10 or newer)? 
We will use this information to prepare the Remote Deposit Capture agreement and order the scanner. You will sign the agreement and provide contact information for individuals authorized to use the system. After that, we will schedule scanner installation and a training session for your staff.
Other Information
After your scanner has been installed, our Electronic Banking Team is available to provide assistance and answer questions. Call 410-820-6840 or contact remotedeposit@shoreunitedbank.com.
Fees associated with Remote Deposit Capture may be offset by balances in a Commercial Analysis Account. For information, contact your local branch or call 443-262-9310.
To prevent fraud, we ask your business to store all original checks in a safe, locked location for at least 30 days after they have been processed.