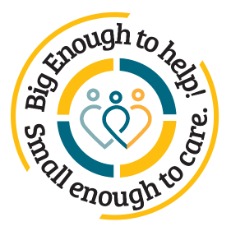 "First, I'd like to say thank you for serving our community. Since I have been banking with Shore United Bank in Dover, I've been treated with the best hospitality and customer service by far. I would like to thank Elijah. Elijah treated me very professionally as soon as I entered the bank to open my personal account. Since then, each and every staff member of the Dover location has given me the utmost respect. I have taken Elijah's advice on considering opening a business account, and today I'm opening my LetsBrand.today digital marketing account with the wonderful Mrs. Vicky Ebaugh. She has been wonderful today with helping me with my business account from process to information. I'm so happy that I step foot into this bank months ago. Whoever chooses to read this message and was wondering if Shore United Bank could be the location for them, I would say 'yes'."
-Julius
We're always here to help!
We could tell you about all the ways we support our customers. But it's more powerful coming from them. See how neighbors in our communities' benefit from their relationships with Shore United Bank.
"If you want the best customer service around, Shore United Bank is the place to be. Stacy and Amy are the absolute best. They make you feel like you are the most important customer in the whole bank. The only regret I have is not switching to this bank years ago!
-Ann
"I've been dealing with Erich Krach at this branch who has been unbelievable with how much knowledge and advice he's given me when it comes to my financial needs. I look forward to banking with these folks and the amazing service and personalized care I know I will get!"
-Martin
"On behalf of the Shoreline leadership team, I wanted to extend our heartfelt thank you for all your assistance and hard work on the Federal Paycheck Protection Program. Securing these funds was a huge deal for Shoreline, as it will help us continue to operate our business as close to normal as we can during these uncertain times due to the COVID-19 pandemic."

-Chris Morrell, Shoreline Vinyl System
"Thank you to your employee Hailey Drummond for being able to assist in donating gift cards for a family in need. We used these to buy warm winter clothes for the children. Thank you for giving to your community."

-Lily
"Thank you to you and your team. On Friday, we were able to guarantee 35 hours of work and no layoffs to our employees through June. Also for those with healthcare, we are picking up the employee portion for at least the next few weeks. We are making some hires as well that never would have happened so a few more families lives will be helped too. Many have anxiety about virus issues but we were able to at least relieve them of the economic concerns for now. Hopefully by June, this will be in the rear view mirror."
- Bruce, Local Business Owner
"On the news I hear about other small businesses struggling through the SBA PPP loan process. However, that was not the case for us. I want to thank you both for going above and beyond working with us and working with the Small Business Administration to help us secure the loan. Initially there was a lot of uncertainty from the SBA with their forms and the required documentation, however, you worked through the weekend and were on top of the changing requirements and worked closely with us to meet their requirements. Thanks for your help it is greatly appreciated."
-Finance Director, Mid-Shore Non-Profit Organization
"Just wanted to take a moment to say thank you for making the closing process quick and painless. You are truly a pleasure to work with and will continue to use SUB institution in the future. Looking forward to continue building a long-term working relationship with you and SUB!" 
-ATC Development Group
"THANK YOU for helping me get the mobile deposit set up with my salespeople. It has been working so well and we are every happy with the speed we are getting our customers' checks deposited now"
- Nicole, from Service Today

Before and after photos of a house that was recently restored in Cape Charles, VA! Jenny worked with Jennifer Annis, Manager of our Onley, VA branch and Tom Mears, Market Executive of Ocean City, MD to finance this incredible restoration project. When the project was finished, Jenny was so excited and very thankful for all the people who helped her get it done!
"Shore United Bank was wonderful to work with! Tom and Jennifer saw my vision and believed in me and it was just a great experience. I can't wait to work with you all again very soon!"

-Jenny Barker, Jenny Barker Interior Design

While searching for a new vehicle, Jeremy knew just who to reach out to for financing! Jeremy worked with Chad Cronshaw, Manager of our Rt. 213, Centreville, MD branch to finance the purchase of a 2017 Ford F-150 XLT Crew Cab. Chad was able to get him a low interest rate, with a quick turn around time.
"I've been a customer of Shore United Bank for a while now, and I love working with them. Chad is so helpful and I am thankful for all he has done for me."
-Jermey M.

As a community bank, we take supporting our local communities seriously! We opened up our board room to twenty-five Board leaders of local nonprofit organizations for their quarterly convening of the Nonprofit Board Chair Roundtable to learn about ethics within nonprofits.
"Thank you, Shore United Bank, for all you did to make this space available and for being so welcoming to everyone!" 
-Teri B.