Shore United Bank is a member of the Allpoint Network
Frequently Asked Questions about Allpoint
What is the Allpoint Network? 
The Allpoint Network is surcharge-free network of ATMs with over 55,000 locations throughout the United States, Canada, Mexico, Puerto Rico, United Kingdom and Australia. Because we are a member of the Allpoint Network, these locations are surcharge-free to our cardholders.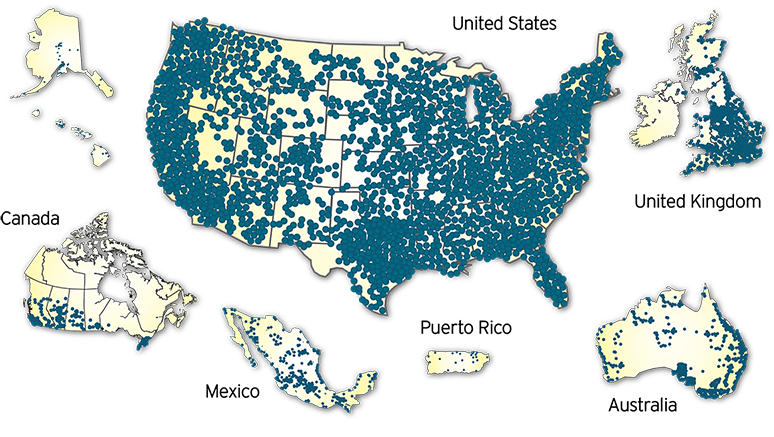 Where can I find Allpoint Network ATMs?
You can find Allpoint Network ATMs in 55,000 retail locations around the world, with 43,000 in the United States, including these retailers:

How Can I find Allpoint ATMs?
Use our ATM locator to find the nearest Allpoint ATM.
Download the Allpoint App (Available for iPhone, Android and Windows devices)
Visit Allpoint's Facebook page and use the locator
Look for this logo on the ATM

Can I make a cash deposit at an Allpoint ATM?
Some Allpoint Network ATMs now have the ability to accept deposits.  Allpoint+ deposit-enabled ATMs are available at approximately 1,000 locations across the U.S. Use our ATM locator to find the nearest Allpoint ATM. 
Can I use my current card?
Yes! Use your current card to gain Allpoint surcharge-free access at 55,000 ATM locations worldwide. No additional sign-up or action is required. Start using Allpoint today!
I went to the retailers you listed, but the ATM looked like it was owned by another bank - will that bank charge me for using the machine?
Many Allpoint Network machines look like they are operated by other banks or credit unions, however, all ATMs listed on the Allpoint locator are part of the Allpoint Network and are surcharge-free for Allpoint cardholders. Just look for the Allpoint sticker on the lower part of the ATM.
The surcharge screen appeared when I attempted a transaction - will I get charged a fee?
No - the surcharge screen is there to notify customers of other institutions who are not participating in the Allpoint Network. Just press "Yes" to accept the fee and continue with your transaction. Allpoint  card holders won't be charged.
I used a location on the locator, but was still assessed a surcharge. Can I be reimbursed?
Yes! Complete the form at allpointnetwork.com/about/refund and Allpoint will be on the case.