Patrick Pierce leads the South team as Regional President
WALDORF, MD - Shore United Bank is pleased to announce the promotion of Patrick Pierce as our Regional President in the South region, serving Southern Maryland and parts of Virginia. Piatrick's impressive background in banking, personal accomplishments and dedication to his team and community gives no surprise as to how he earned this role within the Bank.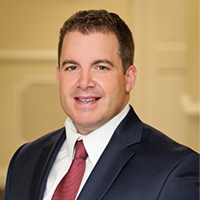 As graduate of the University of Maryland University College with a B.S. in Business Management – Finance, he began his career as a registered representative and Investment Specialist with Charles Schwab & Co., before starting with Shore United Bank (former Community Bank of the Chesapeake) in October 2003.  
Patrick's success and promotion to Regional President came after holding many positions with the Bank. Some of the positions he's held range from Branch Manager, Loan Officer, Senior Lender, Chief Banking Officer to Chief Lending Officer.
Primary responsibilities of Patrick's new role include overseeing, planning, and executing business development efforts and operation efficiencies within the South region. In addition, he is responsible for developing and maintaining relationships with key stakeholders, employees, and the community.
"I feel I make a difference in my work by implementing and reinforcing a consistent framework to execute on strategic goals," Patrick says about making a difference in his work. "I enjoy helping our local clients prosper by providing financial resources and recommendations, which help benefit the community where I was born and raised," he adds, saying he enjoys his job.
Believing in the importance of community, Parick supports local charities through participation, volunteer work, and attendance in community events.
Residing in Port Tobacco, MD with his wife Lacey and their two Boxers (Luca and Lexi), Patrick enjoys spending his free time golfing, boating, and fishing.
Shore United Bank is a full-service community bank with a rich history dating back to 1876. The bank operates in Maryland, Delaware, and Virginia, offering a wide range of financial services to individuals and businesses.