Butch Townsend leads the East team as Regional President
EASTON, MD - Shore United Bank is pleased to announce the promotion of Butch Townsend as our Regional President in the East region, serving the Eastern Shore of Maryland. Butch's local background in banking, personal accomplishments and dedication to his team gives no surprise as to how he has earned this role within the Bank.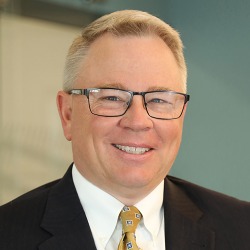 Spending his entire banking career with Shore United Bank, he has held multiple positions ranging from Teller to Market Executive.  
As Regional President for the East, he is now responsible for making sure all business units within the region (Talbot, Queen Anne's, Caroline, Kent and Dorchester Counties) work well together and are putting the needs of Bank customers and communities first.
"Understanding our local economy and having experience in helping our customers find solutions to their concerns is the value I bring to our team," Butch said. "Each day, I learn something new, and I get to help make customers', team members' and our local communities dreams come true," he added.
Residing in Easton, Maryland with his wife, Lisa, and children, Jack (19) and Samantha (15), Butch adds an impressive commitment to his community to his resume.
Currently, he is serving as a current member of the Bryan Brothers Foundation and though his term on the board of the Waterfowl Festival ended in 2022, he still volunteers. Butch is a past President of the Talbot County Country Club and still serves on the committee, serves as a Shore Regional Health Finance Committee member and is a previous committee member of the United Fund of Talbot County.
Butch will be with the Bank for 23 years this coming December and enjoys golfing, hunting, and spending time with his family and children at an array of sporting events.
Shore United Bank is a full-service community bank with a rich history dating back to 1876. The bank operates in Maryland, Delaware, and Virginia, offering a wide range of financial services to individuals and businesses.