Big enough to help, Small enough to care.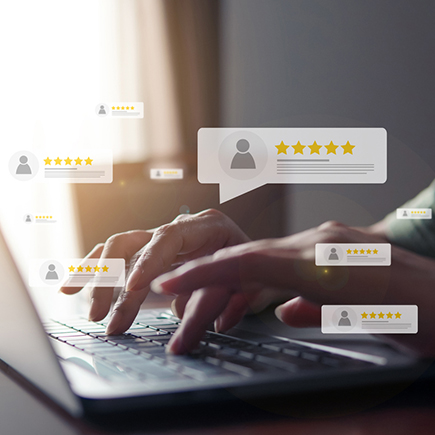 As a community bank, we offer innovative products and services to meet your banking needs but we have something even more important, people that care about you. See what our customers have to say about us!
"Opened a new account today, Amie was so helpful and made the process so easy. I was in and out of there in no time."
-Amber
"If you want the best customer service around, Shore United Bank is the place to be. Stacy and Amy are the absolute best. They make you feel like you are the most important customer in the whole bank. The only regret I have is not switching to this bank years ago!"
-Ann
" I have a personal and a business account with this branch. They have always been courteous, prompt, and professional. Stacy, Amy, Ana are wonderful."
-Justin
I've been dealing with Erich Krach at this branch who has been unbelievable with how much knowledge and advice he's given me when it comes to my financial needs. I look forward to banking with these folks and the amazing service and personalized care I know I will get!"
-Martin
"The lady in front of me at Dunkin' Donuts bough my order for my coworkers and I. This was a very kind gesture and made this Christmas week even better. Thank you!"
-Amanda
"Thank you for the gift card. It really means a lot to be with a bank that values our community. Truly making spirits bright at the most wonderful time of the year."
-Hannah
"Thank you to your employee Hailey Drummond for being able to assist in donating gift cards for a family in need. We used these to buy warm winter clothes for the children. Thank you for giving to your community."
-Lily
"First, I'd like to say thank you for serving our community. Since I have been banking with Shore United Bank in Dover, I've been treated with the best hospitality and customer service by far. I would like to thank Elijah. Elijah treated me very professionally as soon as I entered the bank to open my personal account. Since then, each and every staff member of the Dover location has given me the utmost respect. I have taken Elijah's advice on considering opening a business account, and today I'm opening my LetsBrand.today digital marketing account with the wonderful Mrs. Vicky Ebaugh. She has been wonderful today with helping me with my business account from process to information. I'm so happy that I step foot into this bank months ago. Whoever chooses to read this message and was wondering if Shore United Bank could be the location for them, I would say 'yes'."

-Julius
"Fantastic Experience with Shore United! Simple process, great communication, Lynn Hancock and Allison Parcells made this a quick and easy, painless transaction. Thank you!"

- Tim
"It is so nice to deal with a bank that treats you like a human. They always have a friendly customer service and are very helpful. The tellers constantly have smiles for everyone. You are never made to feel like an inconvenience whatsoever. This is customer service as it was prior to covid-19. How refreshing to see in this age when everybody is avoiding work or doing their jobs appropriately. Great bank to deal with!"

- Suzanne
"I have never really had an issue since I signed up with Shore United 8+ years ago, but today reminded me why I stick with them... I called the Cambridge branch and my call was answered by Cherokee. Her attitude, willingness to help, and promptness to resolve my issue really made my day. Even if she were unable to resolve my issue, I would still be happy because of her AWESOME customer service. I hope that Cherokee reads this review and I hope that it helps her to remain herself and stay kind!! Thank you, Cherokee!"

- Kelsey
"Wonderful organization to deal with. They have a customer-oriented approach to the way they do business."

- Patrick
"Just wanted to take a minute and share my amazing experience. I have been a customer of Shore United for many years, way back when it was the former Northwest Bank. Just recently, I purchased a home and Sonia has been such a huge help in guiding me and helping me accomplish my goals. She was very patient with all my questions and my many difficult requests. Sonia and Kris have been a blessing. So grateful for their help."

- Lisa
"The staff at this bank is the absolute best. Shout out to my family at Shore United Bank! Angela, Ashley, Jay, Leeza, and Lem. Greatest bank on earth. Thanks."

- Byron
"Always a great environment everyone is very respectful and polite and very fast. What else could you ask for. Love this staff, please keep them all. Your member for life!"

- XG

"We appreciate the help from the dealer SCMS including Bob Cauthen and Mike Phelps with whom we would have been in serious trouble. Also, Jennifer Annis at Shore United Bank and our engineer Tom Reynolds. Both were vital to us being able to get back up and running as well."

- WESR Radio owner Charlie Russell regarding the need for a new transmitter after weather disaster
"Just wanted to take a moment to say thank you for making the closing process quick and painless. You are truly a pleasure to work with and will continue to use Shore United Bank in the future. Looking forward to continue building a long-term working relationship with you!"

- ATC Development Group
"THANK YOU for helping me get the mobile deposit set up with my sales team. It has been working so well and we are very happy with the speed we are getting our customers' checks deposited now."

- Nicole, from Service Today
"GREAT folks to work with! I refinanced my home with Shore United Bank last year and could not have been more pleased with the help, advice and service of the entire staff. I recommend them, without reservation, to anyone looking for a new banking experience!"

- Sean

Call or stop in today to discuss your next transaction with us!